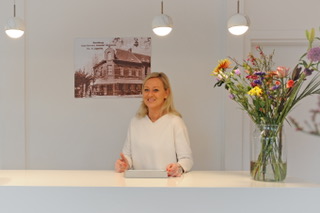 growing up in a family of shop owners I know from a very young age that I wanted to sell things to people, make them feel good.
After graduating I travelled the world for a few years, first as an au-pair, then as a stewardess long haul. After taking on 2 jobs in the optical world and a very nice carreer in fashion I gathered enough inspiration and knowledge about the retail scene.
Because I regretted there wasn't a nice mid end gift shop in our area, I didn't hesitate when I found this really nice vacant shop on the corner of my street.
From then on things went really fast, and I consider it an honor to run my 'Futur' in my beloved hometown, Mariaburg, where I was born and raised.
The greatest thing about my job is meeting 4 different generations of customers and the heartwarming feedback that people loved their, carefully selected gifts.
Futur Conceptstore is a feel-good-shop where you can stroll around, discover nice gifts, and great items for your personal appearance or your home, for any budget.
I'm always on the lookout for new, start up brands, which you don't find on every corner of the street, I tend to work with other 'mompreneurs' or talented youn ladies, because I strongly believe we should support eachother, and build our 'FUTUR' together. 
Besides a few commercial brands s.a. Bloomingville, House Doctor - Meraki - Nicholas Vahé, Beck Söndergaard, Nutcase, HK Living, OMY,Jellycat, Katie Loxton, ...
a lot of our brands are local: Gimber, Nona Drinks, Détail Collection, Anne Zellien, Mad About Mats, Play & Go, Komono, A Little Lamp Company, Papette, Stratier, Enfant Terrible, Koba Handmade, GoFluo, Steel & Barnett, ..., 
The name Futur is also related to a bar called 'de toekomst' (the future) which was located here and the future I want to build for my family.
I hope you'll feel inspired, I'm always open to new suggestions and feedback.
Hope to see you soon!
Kind regards, Joke 
OUR OPENING HOURS
monday: 10h00 - 16h00
tuesday: closed
wednesday: 10h00 - 12h00 en 13h30 - 18h00
thursday: 10h00 - 18h00
friday: 10h00 - 18h00
saturday: 10h00 - 18h00


You can also place your orders on our web shop 24/7: www.futur-conceptstore.be
*shipping BPost - for free with a minimum order of € 50,00
*pick up your order at the front door of FUTUR
  during our opening hours 
You can also have your gift delivered at somebody else address, just add a cute text in the notes, and we'll add this card to the delivery (instead of your ticket)
Thanks for your trust and support, keep it safe!